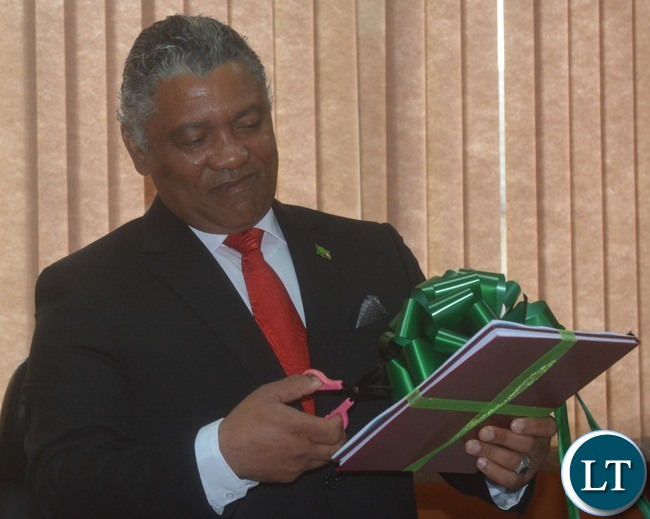 Minister of Justice
Given Lubinda unveils Criminalization of Torture in Zambia
Project Report and Draft Bill just after the handover ceremony
at his officeJustice Minister Given Lubinda yesterday said that
the 90-days declaration of the threatened state of public
emergency which has been in force since 11th July expired at
midnight last night.
In a ministerial statement to parliament, Mr Lubinda said that
the effect of the expiration of the period relating to
threatened state of public emergency is that the application of
the preservation of public security Act, Chapter 112 of the
laws of Zambia, and the preservation of public security
regulations Statutory Instrument number 55 of 2017 will be
suspended.
Mr Lubinda said that the declaration made on 11th July 2017
will therefore in accordance with Article 31 duly expire at
midnight tonight.
Mr Lubinda, however, stated that the expiration of the state of
threatened state of emergency is not and should not be
misconstrued to be an invitation for any person to break the
law, as other laws still remain in force.
He has since implored Zambians to continue to be patriotism,
diligent, observant, peaceful and law abiding citizens as they
go about their daily lives.
Asked during follow up questions how much money was spent on
security personnel during the period of the threatened state of
public emergency, Mr Lubinda said there was no extra allocation
of money as a result of the invocation of Article 31, but that
all ministries involved operated within their budgets.
President Edgar Lungu on 5th July, 2017 invoked Article 31
following a spate of suspected arson cases targeting mainly
markets, which left City Market in Lusaka gutted.