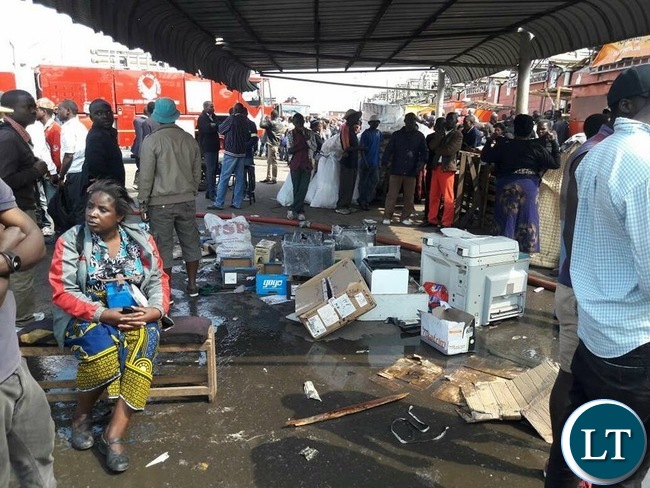 The Scene at Lusaka
City MarketVice President Inonge Wina says government is
determined to complete the construction of two temporary
markets to enable marketer traders who lost their goods in the
City Market fire, carry out their business.
Mrs Wina has however expressed disappointment at the rate at
which works are moving at the two sites.
She has urged relevant authorities to engage the marketeers and
inform them on what has led to the delay in the construction of
the temporary markets to avoid the marketeers getting
frustrated.
Mrs Wina also stated that government will continue to come up
with initiatives that will improve the welfare of marketeers in
the country.
The Vice President noted that President Edgar Lungu is
committed to empowering the marketer traders in the country
because they play a key role in the development of the country.
The Vice President was speaking when she visited the temporary
construction sites of the markets.
And Disaster Management and Mitigation Unit-DMMU- National
Coordinator Patrick Kangwa said construction of the markets has
delayed due to various challenges on both sites.
Mr Kangwa however said of the over 12 million Kwacha pledges
made to the build back better markets only 10 million and 276
kwacha is available.
And Zambia Army Engineer Joachim Mwenda said the delay in the
construction of the temporary market at Simon Mwewa area is due
to change in the design of the market.
Meanwhile, the ZNS Chief for Land Development Brigadier General
Lawerence Sampa said works on the Soweto site have delayed due
to erratic flow of resources.